Autumn is our favourite season, and here's why 
Autumn is arguably our favourite time of year. Now before you start telling us about the cold and the rain and the fact that after clearing your garden of leaves, within seconds it looks like you never even did it – hear us out. We've got plenty of reasons why you should embrace the autumn
1. Our green land changes into an array of stunning colours
2. Don't like the current weather? Just wait 5 minutes and it'll change. Sun, rain, mist, sun again, snow, rain, sun again
3. The world champions of conkers emerge from their holiday homes
4. Catch an early sunset and be back in time for dinner
5. The things you find in your coat from last year (best case scenario? Cash, Worst case? Sticky sweets)
6. Clear, crisp days. The very best weather for walking, red faced but snug in your gear with views for miles
7. Atmospheric mist
8. Cloud inversions
9. How cosy are down jackets? Like somebody made your duvet into a coat.
10. Changeable weather means layering up to handle the sudden change in temperature, but you don't mind because you get to wear all your new gear.
11. You meet new people at work as you discuss what the setting of the air conditioning/should be
12. You find a new appreciation for your flask. Tea, Coffee, Soup at the summit all become the greatest.
13. Cold air seems to make it acceptable to have a shot of liquor in your coffee (do not get drunk at the top of a mountain)
14. Hiking lunches turn from sandwiches to hearty stew, curry, chilli or chunky soups
15. Dogs love autumn too
16. But your dog loves autumn, no matter what
17. Autumn is its own instagram filter
18. Perfect weather for gilets
19. Perfect running temperatures
20. Wild Camping – If you like your camping with a little more solitude, then outside of the summer rush you can probably pitch up alone or with a few friends and enjoy a night round a campfire.
21. Clearer skies mean ideal stargazing conditions
22. Congregating inside for a post-walk ale, as good as a beer garden
23. Hot Chocolate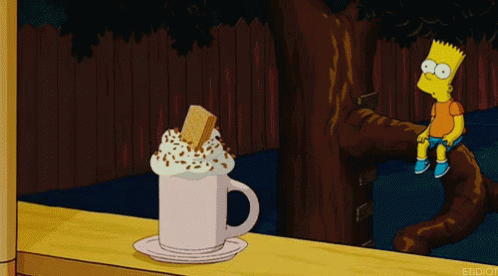 24. Blow the cobwebs away with an early start to that walk
25. Hygge - No, it's not the name of an IKEA curtain rail, Hygge is a Danish word that roughly translates to 'a feeling of cosy contentment' and is there a better month for that than Autumn?
It's all about knowing when the weather just isn't right, so instead just sitting down in front of the fire and taking in the outdoors through all the many outdoor documentaries on Netflix.